Hinicio is pleased to announce its collaboration with the HYPORT Duqm for a precertification project of green hydrogen imported from Oman in accordance with the recently published EU regulation. The HYPORT Duqm project is jointly developed by DEME Concessions and Omani energy company OQ Alternative Energy, which have signed an award letter to implement green hydrogen precertification under the CertifHy™ scheme with Hinicio.
Green molecules will be shipped from HYPORT Duqm to customers in Europe and other markets, and a robust and transparent certification scheme is essential to the green energy transition, guaranteeing clients that the supplied renewable fuels have been sustainably produced and enabling them to achieve their climate goals. The HYPORT Duqm, located close to the Port of Duqm, will develop a green hydrogen and green ammonia production facility with a 500MW electrolysis capacity.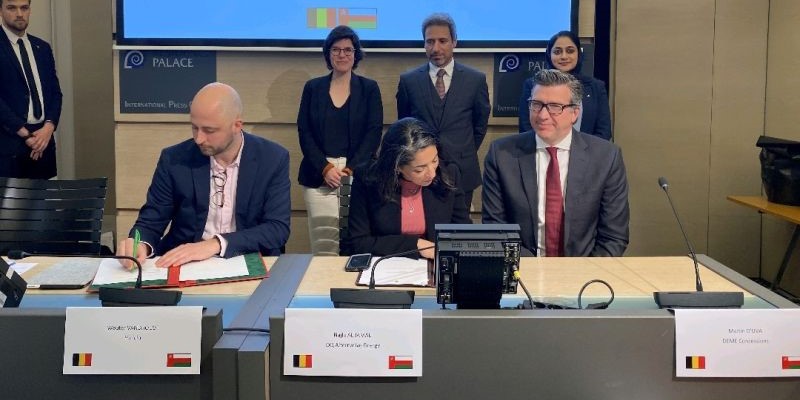 Wouter Vanhdoudt, Head of Business Development at Hinicio Belgium, remarked that with the CertifHyTM EU RFNBO scheme, precertification projects are needed in an uncertain regulatory framework, especially as certain terminology within EU law is not directly applicable to the electricity market design of export countries. "Through a precertification project like this one, developers can increase the maturity of their projects toward compliance with European criteria for green molecules. Other PtX projects within Oman can also learn from the results to make their project compliant with EU law".
The objectives of this precertification project are as follows:
Assess the future compliance of produced Renewable Fuels of Non-Biological Origin (RFNBO) in Duqm with the European Renewable Energy Directive II (RED II) Delegated Acts in order to offer security to HYPORT Duqm that its produced molecules qualify for import into the EU as green molecules.

Exchange with the European Commission on the feedback from experience and on the interpretation of the RED II Delegated Acts to help ensure a level playing field for non-European producers.


For more information about the CertifHy™ scheme and green hydrogen certification in Europe, please contact our experts at:  info@hinicio.com.